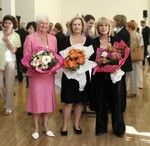 On her homepage, the patron of the exhibition Gerda Hasselfeldt refers to our event and publishes parts of her brilliant speech.
My impression was that rarely was such a warm and intelligent speech given at one of my vernissages.
Gerda Hasselfeldt is a great woman, who lives up to our female gender!
www.hasselfeldt.de