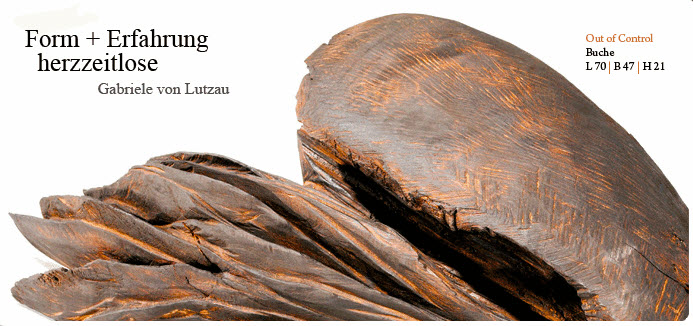 Curriculum vitae
1954
born in Wolfsburg
1984 – 1995
Attended the summer workshops and symposium of Professor Walther Piesch of the University and Art Acadamy Strassbourg
1995
Member of the Association of Creative Artists
1997
Arts Prize of the Art Association of Hoechstadt/Aisch
2002
Artjury defenseministry Berlin.
exhibitions (collection):
Brussels 2009: Residency of the German Ambassador
Berlin: House of the Commerzbank – at the Brandenburg Gate
ART MIAMI January 2006: Alp Galeries – New York
Shanghai – China: Shanghai Spring Art Salon 2003
New York: Galerie M.A. Alp
Bremen: Galerie Kramer
Kassel: Kulturbahnhof 2005 / 13 Course Menue
Bonn: Künstlerforum Hessische Landesvertretung
Brühl:
Bundesfinanzakademie 2002
Düsseldorf:
Dock 13
Köln:
Rheinbraun
Cologne:
Mediapark Clinic
KÖLN / Sürth:
Skulpturengarten Sürth 2005
Bad Hornburg:
Englische Kirche
München:
Galerie Artist München
Galerie SYM München

Darmstadt:
Darmstädter Herbsttage
Resümeeausstellung / Kommunale Galerie
Kommunale Galerie
Frankfurt:
kunsTräume 1 and 2
Holzhausenschlößchen
Berufsverband Bildender Künstler
Osnabrück:
Impulse
Frankfurt:
Thurn und Taxispalais
Mc Cann Ericson
Paulskirche
Luxemburg:
Artium Art Gallery
Straßburg:
Palais Josephine
Colmar:
Galerie Aurinko Colmar
Kronberg:
Galerie Satyra
Kronberger Burg/Charity Round Table 40
Viernhein:
Kulturscheune Viernhein / Kunstverein Viernheim
Dresden:
Hygienemuseum
Bad Dürkheim:
Galerie Esplanade
Mannheim:
Nationaltheater Mannheim
Galerietage
Amorbach:
Galerie Kreutzer
Kleinsassen:
Kunststation Kleinsassen
Kelkheim:
Galerie Rosenborn / Zauberberg
Babenhausen:
Schloß Babenhausen – Arttage 2002
International Project Rosenthal WE ART
Interdisciplinary Artprojekt and Symposium Bad Langensalza
Founding kunsTräume 1 und 2
Bringing ARTlife to empty office buildings – from 2001 untill now
Projekt 13 Gänge Menue 2005
An der Ausstellung, die im Kasseler Kulturbahnhof Premiere hatte, nehme ich mit einem von mir gestalteten Stuhl aus massiven Rüsterholzbohlen teil. Das Gedeck besteht aus Spähnen und 2 Gänsefedern.
Privat Collections
To protect the privacy of my customers i cannot name the collections, but luckily i am in quite a few very good ones…
Public purchases
Bund Deutscher Industrieller, Deutscher Beamtenbund, Evangelischer Regionalverband Bremen
Sculpture Exhibition and Performance
'Beyond Death' – Event at the Frankfurt Main Cemetary
Skulpturensymposium Pfäffikon/SCHWEIZ
Mai 2005
Sculptingdays in Poppenhausen
From 24. 08. 2002 – 1. 9. 2002 Symposium in Poppenhausen
Symposium Eppstein
Woodsculpturermeeting in Eppstein, Taunus
Seegarten Amorbach
1998 Symposium begleitend zur Teilnahme an der großen Skulpturenausstellung im Seegarten.
State of Hessen's "Cultural Summer" 1998, 1999, 2000, 2001
Open Ateliers